Kids today spend more than 7 hours per day in front of some type of screen, be it computer, TV or gaming.  Regardless of what the gadget of choice is, the point is they're not slapping on some sunscreen and playing outside.  If you're trying to figure out a way to get your kids away from technology and into some fresh air and using their imaginations, try a family project they can be involved in.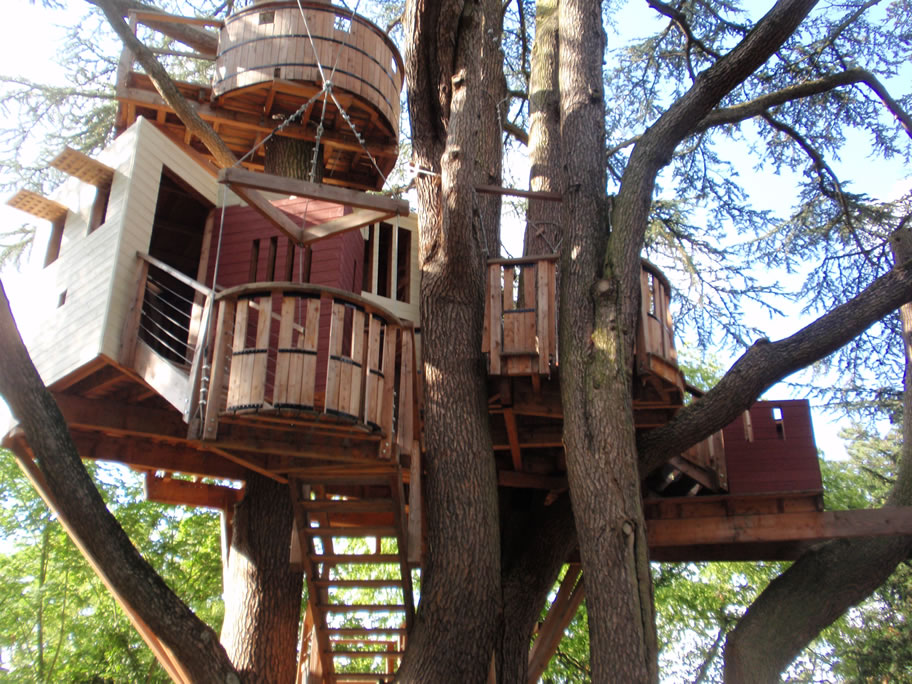 Building a tree house can be the perfect family project and it leaves them with somewhere to go later that isn't in front of the television.  Get them involved in the project right from the start, picking the right tree and listing the features they want to incorporate into the design.  This should be a fun project so let your imagination run wild.  If you're stuck for ideas on how to best your tree house fun and engaging here are 7 design ideas to build into your tree house.
Every tree house needs a ladder. You can use an old fashioned wooden ladder, or you can choose a rope ladder instead.  If you're skilled in construction you can even put in a staircase instead.
Add a quick exit with a fireman's pole. Kids will love this is like having a cool playground feature right in their backyard.  Make sure the pole is properly installed and secured, use a concrete base for the bottom of the pole and make sure the concrete is completely dry before the kids start sliding down.
Build a rope bridge to a nearby tree. Rope bridges add some adventure to the tree house so connect it from the tree house to another about 10 feet or so away.  For safety leave a small gap of just an inch or so between the slats of the bridge and make sure the ropes acting as rails are firmly secured.
Put in a zip line. Children love feeling like they are flying and would love a small zip line.  Take safety into consideration and instead of just using a set of handle bars to 'zip' down you can install a seat with some handles.  It will cut down on the chance of any falls.
Add some playground features. Swings and slides can be easily added to any tree house.  You can use the branches to add wooden swings or a tire swing.  Slides are available in a bunch of different shapes and sizes and can be easily added to the side of the tree house.  Kids will love a fast exit!
Build a trap door into the tree house floor. Having a trap door lets their imaginations run wild, it can be a portal to another world or an exit for a super spy.  It also works well with the fireman's pole.  Encourage the child's sense of adventure.
Add a crow's nest so they can survey their domain. If you have a castle or pirate themed tree house, these are great additions.  A cheap and easy way to build a crow's nest is to use half of an old wine barrel, put it on a sturdy platform with a small ladder attached for safety.  The kids will love it.
Given all the fun to be had, it might be time to get the kids and move away from NYC to start building your treehouse dreams.